Why switch to Insightly CRM?
Switching to a new CRM is an important decision. We put together this page to help you compare Insightly to other CRMs and see if it's the right choice for your business.
How is Insightly different from other CRMs?
Insightly provides businesses of all sizes and industries with secure, flexible, and scalable sales, marketing, and delivery solutions all in one platform, without the high cost and complexity of legacy CRMs.
Unlike the majority of integrated legacy CRMs, where sales, marketing, and service data are collected and managed in separate structures, all Insightly apps sit atop a single data platform. All teams, one database. No manual syncing. No data silos. Centralize your sales, marketing, and delivery data in one place and align teams around customer journey.
Calculate and compare your CRM costs
Use Insightly's total cost of ownership (TCO) calculator to compare costs between Insightly CRM and a legacy CRM, like Salesforce. See for yourself how much you can save with Insightly.
CRM Cost Calculator Assumptions
The CRM Cost Calculator compares Salesforce.com's Sales Cloud Professional Edition and Insightly CRM Professional Plan, and Salesforce.com's Pardot Growth Plan with Insightly Marketing Professional Plan.
All CRM and Marketing Automation cost calculations are made using pricing information publicly available on salesforce.com and insightly.com.
Year 1 implementation costs for Sales Cloud are assumed to be $12,500. Source: Bluewolf. Year 1 implementation costs for Insightly is $3,000. This includes premium support.
Total costs include a premium support costs of 20% per user per month for Salesforce compared to a $3,000 annual flat fee per implementation for Insightly from year 2 onwards, regardless of number of users.

Insightly provided us with specific instructions on what to do before we cut over. The process of getting everyone up and running took about four weeks from start to finish. Transitioning from Salesforce to Insightly allowed us to reduce our costs by 40%.
Jamie Paton,
SEO Director, PCG Digital
Read their story
Download the Why Switch to Insightly CRM guide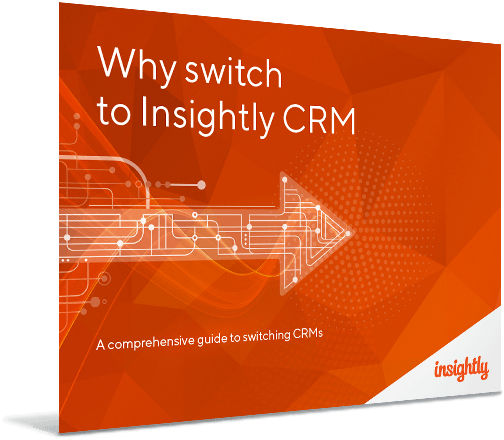 4 steps to a successful CRM switch
Whether you've already decided to switch or are just exploring options, use this guide to conduct a CRM needs assessment and navigate the CRM buying process with more knowledge, clarity, and confidence.
Download the eBook

Insightly is the number one platform and priority for our executives to scale our processes nationwide and get the customer insights we need to make improvements in our business.
Brian Pavlick,
COO, CBUSA
Read their story